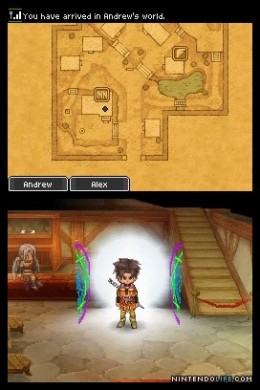 However, there is ONE major addition to
Dragon Quest IX's
gameplay here. Multi-player. Yes, multi-player. And I don't mean that thinly veiled horde mode from
Mass Effect 3
. No, this is true,
Secret of Mana
style co-op where you and up to four friends can play through the story mode together. Now it makes sense as to why the player character is customizable. You activate the Multiplayer by talking to a certain person in a tavern in the second town you visit. If you talk to the winged woman, she can set you all up. Incidentally, this Tavern is also where you can recruit party members for the single player game. But anyway, the Multi-player mode is a neat feature, and In my opinion, is the probably the best way to do multiplayer in a single player RPG....But there's just one catch.
Dragon Quest IX
's multiplayer mode is offline only. And anyone you want to play with has to have their own copy of the game. I can understand everyone needing a copy of the game, but it makes no sense to me why an online mode is absent. The Nintendo DS was fully capable of online interaction, even more so after the DSi upgrade was released, but sadly very few developers actually took advantage of this feature.
Dragon Quest IX
doesn't lack for things to do, even after the story is finished. It's just too bad that's there is only one save slot. So if you want to start a new game, you gotta delete your old one. What the heck?
The last thing to mention is the length. The main story will probably take you on average up to 40-50+ hours to get to the end. But the amount of extra content can keep you busy for over 100+ hours. Heck, I know someone who has played this game for over 800 hours. So needless to say, it's a massive game and you'll get your money's worth.
Conclusion.
What
Dragon Quest IX
lacks in plot and characters it more than makes up for with gameplay. And that's the best way to sum it all up. It's a fun to play, the music is pretty good, the art style is charming, the multi-player is intuitive, and there is so much stuff crammed in it that you'll never get bored playing it. With that said, this game is not for everyone. it's pretty much the textbook example of what some people down right about JRPG's. But then again I've read and seen reviews from critics who hate JRPGs give praise out the out the wazoo for the
Dragon Quest
games, so go figure.
But on the whole, yeah, DQ9 was worth my $12 and more. If you find a copy, get it. You'll thank me later.